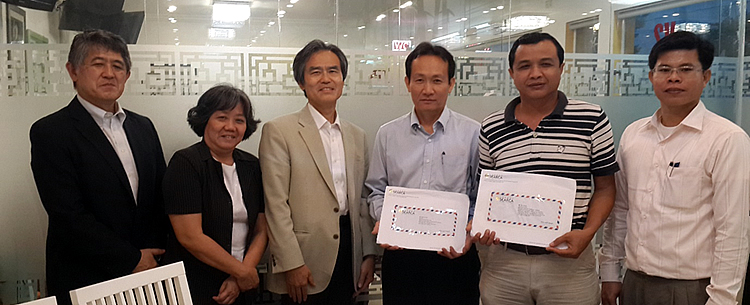 Following the signing of the Nagoya University (NU)-SEARCA Joint PhD Research Scholarship in Agriculture in March 2015, two Cambodian Ministry of Agriculture, Forestry and Fisheries (MAFF) officials have been awarded the said scholarships to finish their PhD at the Nagoya University Satellite Campus for Bio-agricultural Sciences based at the Royal University of Agriculture (RUA) in Phnom Penh, Cambodia.
Mr. Bun Chan, Deputy Director of the National Veterinary Research Institute is currently pursuing PhD Animal Production Sciences, while Mr. Ngin Chhay, Director of the Rice Crop Department is enrolled for PhD Plant Pathology at NU.
Under the joint scholarship, both graduate scholars are entitled to stipend and travel fund during their fieldwork in Cambodia apart from a dissertation research fund of USD 4,000.00
The NU-SEARCA Joint PhD Research Scholarship in Agriculture aims to contribute to the development of high quality agricultural human resources in Cambodia by enabling at least four (4) candidates from MAFF to pursue the NU Transnational PhD Program at the NU Satellite Campus at RUA. The PhD scholars are selected from among mid- and senior level executives in MAFF engaged in framing policies, or are researchers or technical staff directly or indirectly involved in activities related to agriculture and veterinary science. The scholarship is tenable at the NU Satellite Campus for a period of three years.