LOS BAÑOS, Philippines – Two SEARCA scholars have proven their mettle by finishing at the top of the intensive English language course. Mr. Sokom Kong, lecturer from Cambodia's Royal University of Agriculture, taking up MS Veterinary Medicine, was awarded the Best in Reading, Best in Grammar and Academic Writing. By finishing top of the class, Sokom received the Overall Best Academic Performance award. Along with the certificates of completion, these awards were conferred to SEARCA scholars during the closing program on 23 November 2015.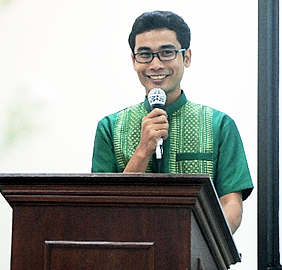 Meanwhile, Ms. Ana Maria D.C.G. Noronha, a young faculty from the National University of Timor Leste who has started her MS degree in Animal Science, was awarded Best in Speech.
"This is by far the most enjoyable course I have attended. And I have to thank SEARCA for giving me this scholarship not just for graduate study but also to improve my English," exclaimed Sokom during the course's closing program.
The course, conducted by the University of the Philippines Los Baños, College of Arts and Science is being offered to international graduate students under the Language Instruction Towards Excellence (LITE) Program. For this semester nine foreign graduate students finished the course with six students as SEARCA scholars.