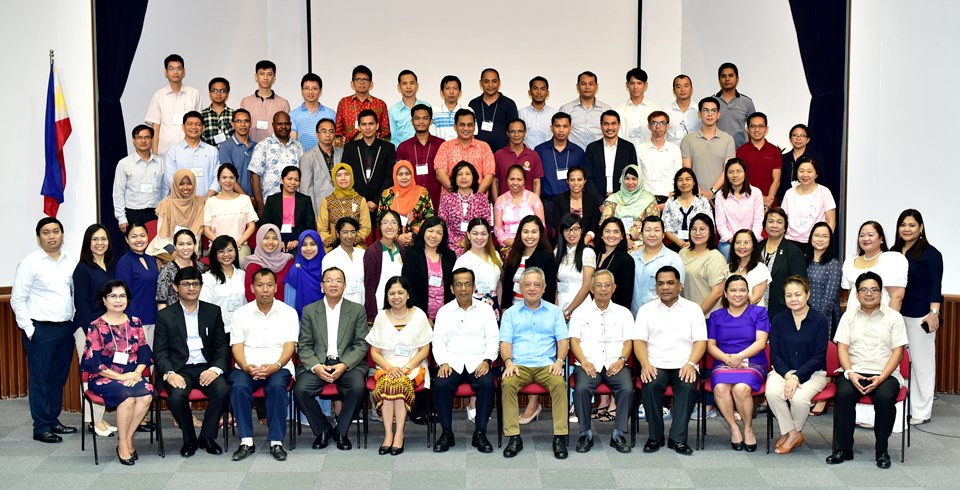 The Southeast Asian Regional Center for Graduate Study and Research in Agriculture (SEARCA) and the Regional SEARCA Alumni Association (RSAA) convened the 4th RSAA Conference with the theme Food Security, Climate Change, and Poverty Reduction: Initiatives towards Sustainable Agriculture and Resilient Communities in Southeast Asia. With funding from the Food Security Center (FSC) of the University of Hohenheim, Germany, the Conference was held on 8-9 October 2018 at the SEARCA Headquarters. More than 75 participants from 11 countries attended the event where SEARCA alumni and other researchers shared ongoing initiatives and experiences in finding solutions to food insecurity, climate change impacts, and poverty in the region.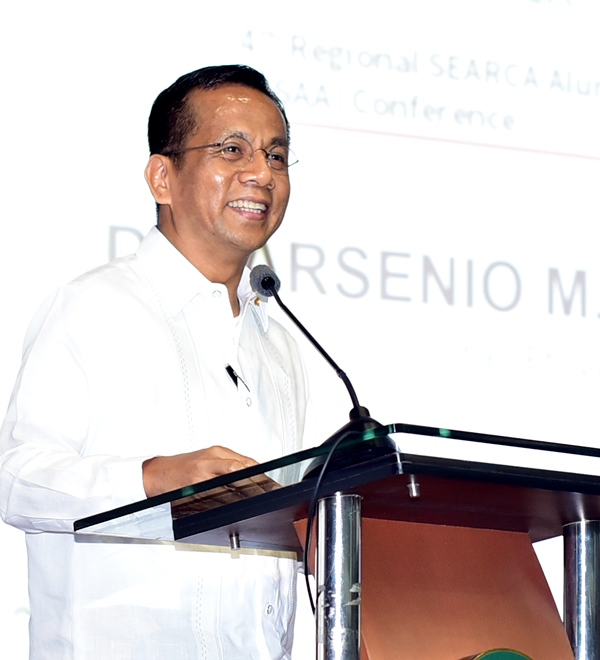 SEARCA co-organizes the 4th RSAA ConferenceDr. Arsenio M. Balisacan, Chair of the Philippine Competition Commission, a SEARCA alumnus himself and former SEARCA Director, served as keynote speaker. He presented the global landscape for agriculture and rural development in the last ten years and mentioned that economic growth has been faster in economies where good governance and sound economic policies are in effect, such as in Singapore, Malaysia, and Thailand. He emphasized that the lackluster performance of the agriculture sector is the reason why there is still much poverty in the Philippines despite the relatively good economic performance. In order to sustain economic growth, Dr. Balisacan proposed the following solutions: productivity-enhancing interventions, such as access to new technologies and innovative insurance schemes; integration of the agricultural economy to the rest of the national economy, which largely depends on efficient transportation and communication systems connecting the rural areas to the urban and market centers; removal of barriers to shift employment from low productivity to high productivity areas and sectors; practice of climate smart agriculture to reduce vulnerability and enhance farmers' adaptive capacity; and implementation of a sound competition policy.
Dr. Josefina T. Dizon, RSAA President, gave the synthesis of the discussions during the two-day event and invited the participants to join the celebration of UPLB's 100th Loyalty Day on 10 October 2018 wearing their respective national costumes.
The RSAA, formerly known as Regional SEARCA Fellows Association (RSFA), was organized in May 2013. The association aims to provide a venue for sharing country initiatives on food security and related rural development concerns and lead in regionalized and integrated efforts of the alumni towards addressing the priority concerns of the region. The first three RSAA Conferences were held in Lao PDR in 2013, Timor Leste in 2015, and Indonesia in 2016.